Vice Admiral Richard H. Carmona, M.D., M.P.H., F.A.C.S., U.S. Surgeon General
The Highest Ranking Tactical Medic in the Nation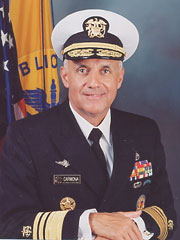 Vice Admiral Richard H. Carmona was sworn in as the 17th Surgeon General of the U.S. Public Health Service on Aug. 5, 2002. His primary mission: To Reduce Rampant Cultural and Racial Disparities in Health Care for Americans.
His is an old-fashioned Horatio Alger success, an unusual "rags-to-riches" story -- riches counted in educational achievement, multi-dimensional career attainment, a transcendent public service career, and a valorous record as both an Army medic and a police surgeon.
Dr. Carmona came from humble beginnings -- an impoverished and disadvantaged childhood. A native of New York City, he grew up in Spanish Harlem, dropped out of high school at 17, and enlisted in the U.S. Army in 1967. During his enlistment, he earned a GED, joined the Army's Special Forces, ultimately became a combat-decorated Vietnam veteran, and launched his career in medicine.
Upon leaving active duty, this former high school dropout adopted "higher education" as his ladder to success, and he never looked back. Carmona was the first member of his family ever to graduate from college. First earning an Associate of Arts degree at Bronx Community College, Dr. Carmona went on to graduate from the University of California, San Francisco, with a Bachelor of Science degree in 1977, and a medical degree in 1979 -- finishing #1 in his class. In 1998, he earned a Masters of Public Health from the University of Arizona.
Carmona's career paints a portrait of a Renaissance man of the medical profession: paramedic, registered nurse, physician, medical professor, hospital CEO. He is an example in the fields of trauma, burns and critical care.
Prior to becoming Surgeon General, Dr. Carmona was the Chairman of the State of Arizona Southern Regional Emergency Medical System, a professor of surgery, public health and family and community medicine at the University of Arizona, and the Pima County Sheriff's Department surgeon and deputy sheriff. Even more impressive, Dr. Carmona has also served as a medical director of police and fire departments, and is a fully qualified peace officer with expertise in special ops and emergency preparedness, including weapons of mass destruction.
In fact, according to the American Medical Association, Dr. Carmona was "committed to disaster preparedness long before September 11," voicing warnings about the threat of bioterrorism since the mid-1990's. "The emphasis should be on prevention and wellness and healthy living," said Carmona. "But now we have to integrate how do we deal with these new threats of terrorism, weapons of mass destruction, and have the appropriate health infrastructure in place to keep our communities safe."
Dr. Carmona is no stranger to violence: as a Green Beret in the Army, he was awarded two Purple Hearts and a Bronze Star. As a sheriff's SWAT team member, he was named one of the nation's "10 Top Cops." In 1999, he came upon a traffic accident that quickly deteriorated into a hostage situation. Carmona shot and killed an armed man who was assaulting a woman after having just stabbed his own father to death, and was on his way to kill an old girlfriend.
This was not the only time Dr. Carmona demonstrated unconditional courage in perilous circumstances. He made headlines long before President Bush nominated him for Surgeon General. In 1992, Carmona rappelled out of a helicopter to execute a daring cliffside rescue of the sole survivor of a Medivac helicopter crash. His bravery inspired a made-for-TV movie.
One final note: In a roundabout way, Dr. Carmona credits the Army with turning his life around. Growing up in abject poverty, Carmona and all three of his siblings dropped out of high school. Friend after friend became enmeshed in a life of crime. Carmona was afraid he too might end up in prison, but he once stated, "I was fortunate. I went away to Vietnam."
For more information see: